Immunity

Researchers propose that increasing NAD+ levels improves immune function in COVID-19 infection.

NAD+ is involved in multiple cellular reactions for the generation of energy and maintenance of cellular health, including immune responses to viral infections. Studies indicate cellular NAD+ levels diminish with age in people, and lower NAD+ levels associated with older age can adversely affect the immune response to infection, which includes the response to COVID-19. The death rates from COVID-19 increase with age, and for people above 80 years old, it passes 14%, which suggests an age-related dysfunction of the immune system.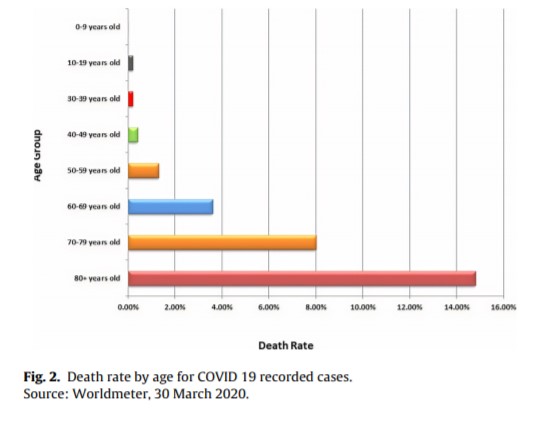 Scientists from Bahrain published a proposal in the Journal of Infection and Public Health where they elaborated on the influence of a molecule called nicotinamide adenine dinucleotide (NAD+) in modulating the immune response to COVID-19. In their proposal, the researchers state that the COVID-19 infection can lead to depleted cellular NAD+ levels and that restoring NAD+ levels could decrease the severity of the body's immune reaction to the infection to improve the condition of COVID-19 patients. They believe that understanding the immune response mechanisms in SARS-CoV-2 will make the development of therapeutic options for the infection possible.
Maintain Social Relationships. Maintaining social relationships plays a fundamental role in a healthy lifestyle. A study on happiness performed by Harvard University has found that people who have an established social circle are both healthier and happier. The quality of our relationships is more important than the quantity. Take time in your day to speak to people you love. Why not invite them over for a cup of tea ? Any reason is good to meet up with friends!
Research indicates that alterations in immune responses accompany aging, including a reduced ability of the immune system to protect against infectious diseases and the reduced efficacy of vaccines in older adult populations. Differences at the DNA level exist between older and younger people that may influence the immune response, namely the length of telomeres, which are the ends of chromosomes . As people age, their telomeres become shorter due to the cell's inability to fully replicate the ends of chromosomes during cell divisions when cells proliferate. NAD+-dependent enzymes called sirtuins modulate telomere length, and decreased NAD+ levels affect sirtuin activity and are associated with short telomeres that induce cell death.
Do your weights workout first. Experts say weight training should be done first, because it's a higher intensity exercise compared to cardio. Your body is better able to handle weight training early in the workout because you're fresh and you have the energy you need to work it. Conversely, cardiovascular exercise should be the last thing you do at the gym, because it helps your body recover by increasing blood flow to the muscles, and flushing out lactic acid, which builds up in the muscles while you're weight training. It's the lactic acid that makes your muscles feel stiff and sore.
NAD+ has a vital role in the body's antiviral response. A large protein called poly-ADP ribose polymerase-1 (PARP-1) catalyzes the breakdown of NAD+ to perform its antiviral functions. With ADP-ribose, a component from NAD+ after its breakdown, PARP-1 tags the viral genome and inhibits the activation of viral gene programs. But the viral family that SARS-CoV-2 comes from Coronaviridae possesses a molecular mechanism to remove the ADP-ribose molecular tag, thus inhibiting the protective effect of PARP-1. This scenario results in excessive PARP-1 activation accompanied by an inflammatory response.
Eat your stress away. Prevent low blood sugar as it stresses you out. Eat regular and small healthy meals and keep fruit and veggies handy. Herbal teas will also soothe your frazzled nerves. Eating unrefined carbohydrates, nuts and bananas boosts the formation of serotonin, another feel-good drug. Small amounts of protein containing the amino acid tryptamine can give you a boost when stress tires you out.
The excessive PARP-1 activation and inflammatory response to SARS-CoV2 lead to disproportionate NAD+ consumption, facilitating further reductions in cellular NAD+ levels. This ultimately inhibits cellular energy production that requires NAD+, leading to energy depletion and cell death. Moreover, reduced NAD+ levels from excessive PARP-1 activity leads to reduced sirtuin 1 (SIRT1) activity, a protein involved in cellular health maintenance and aging.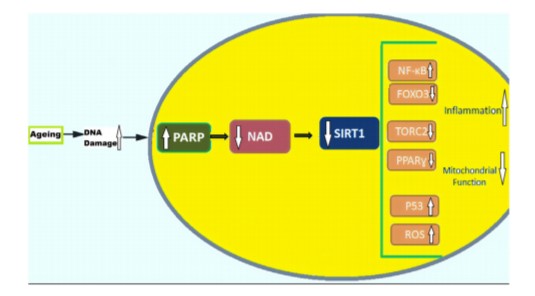 Drink Lots of Water. Hydration is very important, whether we are living a healthy lifestyle or not. Indeed, drinking water ensures the transportation of vitamins, minerals, and nutrients throughout our body. Without even realizing it, we lose over 2 litres of water each day. Therefore, it is recommended to drink at least 1.5 litres of water a day. Did you know there are several different ways to hydrate yourself? Why not try a delicious Lime Ginger Mint Herbal iced tea? After all, hydrating can also be fun!
"This process of PARP-1 overactivation can be reversed by exogenous NAD+ administration," stated the team of researchers in their publication, referencing a method to combat against reduced NAD+ levels. The team goes on to say that NAD+ can modulate a protein complex, NF-KB, with a pivotal role in the inflammatory response to SARS-CoV-2 infection. They say NAD+ supplementation with subsequent PARP-1 inhibition prevents NF-KB activation, reducing the inflammatory response to SARS-CoV-2.

"We suggested the use of NAD+ as an immunomodulator for COVID-19 in older patients. Restoring normal NAD+ levels could decrease the severity of immune reaction in those patients and improve their clinical condition," stated the team in their publication. They conclude that a thorough understanding of the immune response mechanisms against SARS-CoV-2 will contribute to the development of preventative and therapeutic strategies against the virus.

Know your limits. The healthiest version of ourselves lies somewhere between giving ourselves grace while still having challenging goals. A good place to start is by being honest with yourself about what works for you and what doesn't.