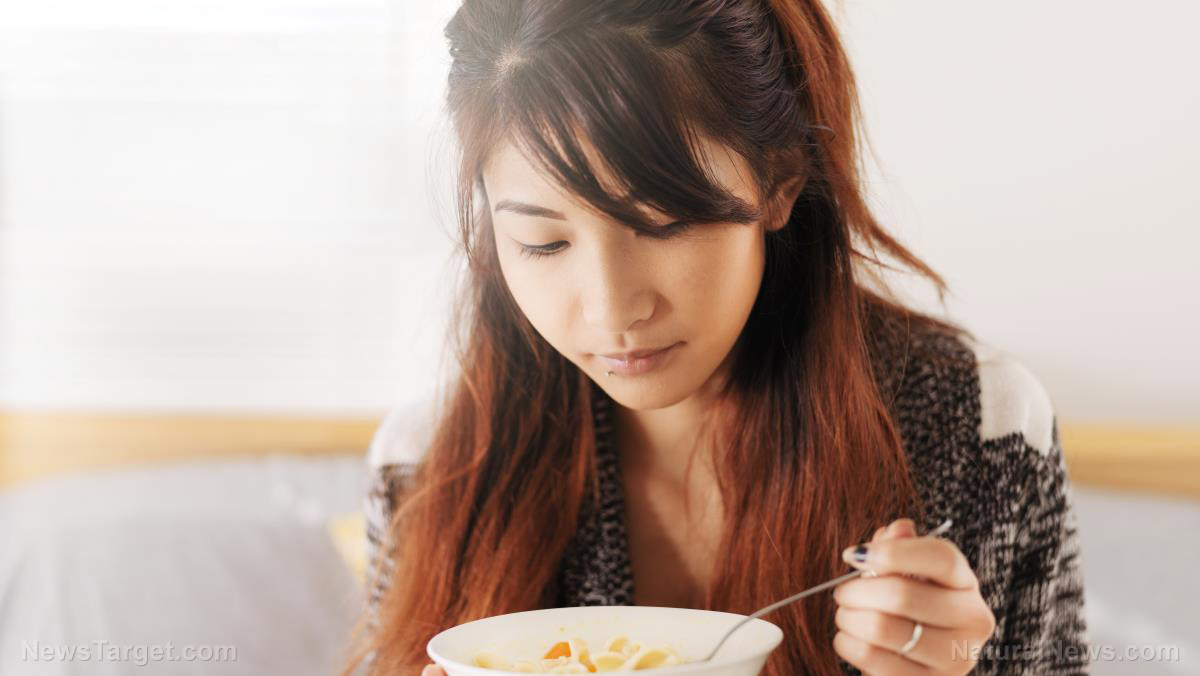 Prevention is always better than cure. But what do you do when almost everyone around you is sneezing and coughing?
During cold and flu season, you can try and keep the sniffles at bay by taking natural remedies like a warming chicken noodle soup and nutritious elderberry syrup.
The health benefits of homemade chicken noodle soup
You may remember being served a bowl of chicken noodle soup when you were young and you were stuck in bed because of a cold. But does this home remedy really work?
Eat a balanced diet. A balanced diet does not have to be a boring diet. As long as you are getting adequate proteins, carbohydrates, vitamins, minerals and fats, that slice of chocolate cake you're craving shouldn't do you too much harm. Enjoy your meals, chew your food properly and eat a variety of foods, including five portions of fruit or vegetables a day. Too much processed food or sugary food can make you feel sluggish.
According to Dr. Sandy Allonen, a clinical dietitian at the Beth Israel Deaconess Medical Center (BIDMC), consuming a hearty bowl of chicken noodle soup may help clear nasal congestion and ease cold symptoms.

However, the remedy is effective only if it's made with the right ingredients:
Broth – The clear broth in chicken noodle soup is warm and soothing. The broth also helps you stay hydrated and soothes a sore throat.
Chicken– Chicken is rich in protein that boosts your immune system. Chicken also contains essential nutrients like B vitamins that help boost your immunity and regulates digestion.
Vegetables– Chicken noodle soup usually contains vegetables like carrots, celery and onions. These ingredients contain vitamins C and K, beneficial antioxidants and essential minerals. These nutrients can help strengthen your immune system and protect you from viruses. Eating nutritious foods will also help you recover from a cold or the flu more quickly.
Fresh Fruits and VegetablesReplace starchy foods such as bread, rice, cereal, pasta, beans and chips with vegetables. Avoid juice and excess fruit. Combine fruit snacks with some fat and protein such as organic cheese or almond butter.
Homemade chicken noodle soup
If a loved one comes down with a cold, make them some tasty chicken noodle soup.
Ingredients for 6 servings:
1 package of frozen egg noodles
2 cans of chicken or 2 cooked chicken breasts
2 cans of cream of chicken soup, undiluted
6 cups of water
1/4 cup of water with homemade chicken broth or low-sodium chicken broth
1 1/2 cups of fresh carrots, diced
1 1/2 cups of fresh celery, diced
1 onion, diced
1 teaspoon of dried parsley
1 teaspoon of dried sweet basil
1 teaspoon of pepper
Salt to taste
Preparation:
Combine all of the ingredients in a slow cooker for six to eight hours on low.
Add the frozen egg noodles during the last two hours so they don't turn mushy. Store the chicken noodle soup in airtight containers like Mason jars.
The health benefits of elderberry syrup
Cut down on oily and sugary food, soda and caffeine. If possible, reduce your intake of fast food, French fries, doughnuts, chips, wedges, and deep-fried food. Not only are they very fattening (1 tablespoon of oil is 120 calories), deep fried food contains acrylamide, a potential cancer-causing chemical. There are better alternatives, such as grilled, steamed, stir-fried, or even raw food.
Elderberry syrup is a homemade remedy that's often used to relieve common complaints, such as:
Constipation
Fever
Headaches
Infections that affect how you breathe
Joint and muscle pain
Elderberry is a superfood that's rich in antioxidants and vitamins that can boost your immune system. Elderberries can also help relieve inflammation and ease cold and flu symptoms.

Considerations before consuming elderberries

If you're not used to eating elderberries, start with small doses of elderberry syrup.
Do not eat unripe or uncooked berries and flowers because they can cause side effects like diarrhea, nausea and vomiting.
Eating too many berries may also cause serious poisoning.
Don't consume elderberries or elderberry syrup if you are pregnant or breastfeeding.
Other parts of the elder tree, like the leaves, branches, twigs, roots and seeds, are toxic.
If you have immune problems, you may have a negative reaction to elderberries.
Elderberries have diuretic properties and can make you urinate more frequently.
Don't forget dairy. Foods like fat-free and low-fat milk, cheese, yogurt, and fortified soy beverages (soymilk) help to build and maintain strong bones needed for everyday activities.
Elderberry syrup suggested dosage
Adults can take one tablespoon daily of elderberry syrup year-round to boost their immune system. You can give children a teaspoon of elderberry syrup daily. (: Elderberries are more effective than vaccines at protecting you against colds and flu.)
If you're feeling sick or if you already have the flu, increase the dosage. Adults can take one tablespoon every three to four hours up to six times daily. Give children one teaspoon every three to four hours up to six times daily. However, you shouldn't take more than six doses of elderberry syrup.
Elderberry syrup helps boost your immune system because it is rich in antioxidants and vitamins, such as vitamins A and C, flavonoids and other botanical compounds that help strengthen the immune system.
Copy your kitty: Learn to do stretching exercises when you wake up. It boosts circulation and digestion, and eases back pain.
Homemade elderberry syrup
Make some elderberry syrup at home to help someone with a cold or the flu recover from their symptoms faster.
Ingredients for 1 bottle of elderberry syrup:
1 cup of dried organic elderberries
3 cups of water
1 cup of raw honey
1 teaspoon of cinnamon
1 teaspoon of dried cloves
1 teaspoon of dried ginger
Preparation:
In a large pot, combine all the ingredients except the raw honey. Bring this mixture to a boil, then turn the heat down to simmer. Let the mixture cook down to about half to make a thicker syrup.
Once the mixture cools down, strain it using a mesh strainer. Squeeze the juice out with a wooden spoon and add the honey. Stir until well-combined.
Store the elderberry syrup in Mason jars for up to two months in the refrigerator.
When you feel like you're about to come down with a cold or the flu, make some chicken noodle soup or take elderberry syrup to boost your immune system and relieve your symptoms.
Use coconut oil, ghee (clarified butter) or leftover fat from pasture-raised meats for sautéing. Avoid heating olive oil and other oils – use them to flavor food after cooking. Choose oils high in monounsaturates and low in polyunsaturates. Avoid corn, canola and soy oils.
Sources include:
Get Our Free Email Newsletter
Get independent news alerts on natural cures, food lab tests, cannabis medicine, science, robotics, drones, privacy and more.
Your privacy is protected. Subscription confirmation required.
Get Our Free Email Newsletter
Get independent news alerts on natural cures, food lab tests, cannabis medicine, science, robotics, drones, privacy and more.
Your privacy is protected. Subscription confirmation required.