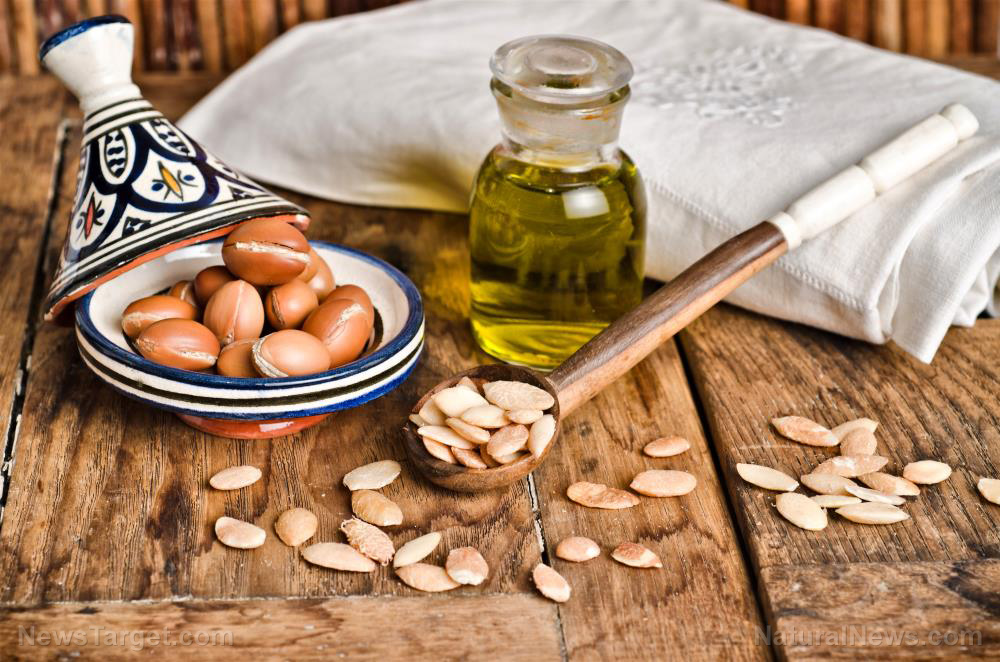 If you're looking for a natural way to attain and maintain healthy hair, using argan oil is a great option. This golden oil is derived from the kernel fruits of argan trees in Morocco, where it is used as a natural topical and internal remedy for thousands of years.
What's in it and what does it offer?
Ninety-nine percent of argan oil is composed of triglycerides or essential fatty acids, which have been reported to reduce skin inflammation and irritation. The remaining one percent is a combination of botanical compounds, such as vitamin E, which is a fat-soluble vitamin that acts as a powerful antioxidant that fights free radical damage. The oil also contains CoQ10, melatonin, and plant sterols, which also contribute to its antioxidant capacity. (: Argan Oil: Its Benefits, Uses, and Purity.)
Argan oil protects against heat and treats split ends
Applying a few drops of argan oil to your hair can do wonders. You can use argan oil as a natural heat shield and split end treatment. Argan oil is light and rich, so it can be used every day. It is a great alternative to chemical-based products that are used before straightening, blow-drying, or curling. To use, pump a dime-size amount of argan oil onto your palm. Then, rub your hands together and pull them through the bottom two inches of your hair. You can adjust the amount of oil to use based on the length and texture of your hair.
Get smelly. Garlic, onions, spring onions and leeks all contain stuff that's good for you. A study at the Child's Health Institute in Cape Town found that eating raw garlic helped fight serious childhood infections. Heat destroys these properties, so eat yours raw, wash it down with fruit juice or, if you're a sissy, have it in tablet form.
Argan oil effectively protects against heat styling damage because of its protective oleic and linoleic fatty acids, which coat hair strands and prevent the outer layer, or cuticle, from lifting – all of which result in broken or split ends.
Argan oil keeps hair hydrated and shiny
Even if you are not styling, you can still apply argan oil to your wet hair to keep it hydrated and shiny. A study published in the Journal of Cosmetic Science found that argan oil can reduce the loss of moisture.
Argan oil soothes an itchy, flaky scalp
You can use argan oil as a hair mask for relieving a dry, sunburned, or flaky scalp. Argan oil contains high amounts of antioxidants and vitamins A, C, and E, which are great for your scalp. The oil will both hydrate your scalp and condition your hair in the process. This will also leave your hair feeling silky, smooth, and nourished.

To use, split your hair first into two parts like you're making pigtails. Then, pump a quarter-size amount of argan oil into your palm and rub your hands together. On each side of your head, massage the oil from the scalp down to the ends of your hair. After that, massage and work the oil all over your scalp. You may add more oil if needed. Tie your hair in a top bun and wear a shower cap. Leave the argan oil on your hair and scalp for 20 to 30 minutes.
Argan oil for conditioning dry hair
People with dry, brittle, or tangled hair may benefit from using argan oil. Its fatty acid content can smooth out frayed hair cuticles, which are the outermost part of the hair shaft. In addition, it has lots of vitamins that can make hair shiny and nourished. You can combine three to five drops of argan oil with your existing conditioner. Apply it as you normally would and leave it on your hair for about five minutes before rinsing. For best results, do this every day.
Get moving! There is no excuse not to exercise because there literally is something for everyone. Not everybody loves pounding the treadmill or pumping iron in the gym but anything that gets your heart rate up is a good cardiovascular activity. How about playing tennis, meeting a friend for a swimming session or taking up self-defense or a martial art? If you can't think of anything better, run up and down the stairs a few times. Feeling better now? Exercise releases endorphins, which cheer you up.
Tips for buying argan oil
When buying argan oil, opt for 100 percent organic oil that does not contain any fillers, water, alcohol, preservatives, or additional chemicals. Moreover, it should be in a dark glass bottle and kept away from the sun. You can find argan oil in many natural food stores and specialty beauty shops.
Sources include: